Links
Coacho
http://www.coacho.com


Mid-Atlantic USATF
http:/mausatf.com


PennTrackXC MileSplit PA
http://pa.milesplit.com

Coaches
Eric Horsey - Head Coach
1989 to 1993: Assistant Cross and Track Coach, Cheyney University
1994: Head Track Coach, Devon Preparatory School
1996 to 2011: CFS , The School at Church Farm
Accomplishments:
2009- PIAA AA Boys' District Champs in Track and Field
2004-2009- Daily Local News Coach of the Year
2007- Pennsylvania Independent School Coaches' Cross Country Association ( PISCCCA) Coach of the Year
2007- Yearbook Dedication, CFS
2005- Name to Who's Who's in America's Teachers
2004-2005- Pennsylvania Independent School Track and Field State Championships
2003-2004- Keystone League Cross Country Champs
2004- Named outstanding High School Team at Hampton Relays in Hampton, Virginia
Delaware Independent School Conference (DISC) Relay Champions in Track and Field
Won Independent School 4x4 at the Penn Relays
2001- Named Inquirer Newspaper Delaware Valley Coach of the Year
1998,2001,2003- Keystone Champs in Track and Field
2011 to Present - Head Boys' Track and Field at Downingtown East High School
1996- to Present Head Track Coach West Chester Track Club.
Coached numerous athletes who have made it to AAU and USAT&F Junior Olympics
Claude M. Cooper - Developmental Coach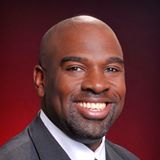 Graduate of Purdue University, where he ran sprints for the Boilermakers. Coach Cooper has been with the track club for the past five seasons. Coach Cooper is hard to miss. If he is not running across the field encouraging the "rookies" to complete a 300m workout; his "bark" can be heard bellowing from the bleachers!! Coach Cooper is a certified USATF Level 1 coach.

When Coach Cooper is not coaching, along with his wife Antaya, he is selling houses. Coach Cooper and his wife are liscened real estate agents with Keller Williams Exton - Spouses Selling Houses The Coopers are also active in the community. It could be the Annual KW Cares Coat Drive or a food drive for The Lord's Pantry.

Coach Cooper and his wife have three boys Myles, Cole and Bryce, all who run track as well. As Sly and the Family Stone said, "It is a family affair!"

Coach Cooper's motto: Run Hard, Run Fast and have fun!!

Erica Davenport

Coach Davenport, the former Bayard Rustin High School Head Girl's Indoor Track coach and assistant Girls' track coach for outdoor has been coaching with West Chester Track Club since 2000. Coach Davenport, a former West Chester Track Club athlete specializes in coaching mid-distance and distance events. She ran track at the University of Maryland Eastern Shore where she was a recipient of a full track and field/cross country scholarship. Coach Davenport held the 3000 meter record at UMES from 1996 to 2004. Coach Davenport is a member of the Bethel A.M.E. church in Downingtown where she participates in the Drama Guild, the Youth and Young Adult Choir and is very active with the youth in the church.

You can often find Coach Davenport encouraging those athletes that may not have a positive outlook on things. You can often here her saying that everyone has potential, we just have to dust you off and polish you up so that you can see those sparkling qualities that I see within you. Coach Davenport loves working with children and enabling them to see all the positives in life, hence why she professionally works as a Prevention Specialist at Downingtown Middle School.

Eric Fleming

Eric Fleming is going into his 3rd season as an assistant track coach for middle distance and long distance athletes. Eric graduated from the University of Pittsburgh in 2008 where he ran cross country, indoor and outdoor track competing in arguably the best mid-distance to long distance conference in the nation. Before Pittsburgh, he attended Bishop Shanahan High School where he garnered multiple all-state awards both in cross-country and track and field. Eric is a proud alumnus of the West Chester Track Club where he competed in the national championships in all season while on the team and claiming the national title both in the 1,500 and 3,000 in the 2002 AAU National Championships. Outside of running and training, Eric works as an Underwriting Assistant for United States Liability in Wayne, PA . He is very proud and excited to be a coach for the Club.

Mark Barnett

Mark Barnett has 10 years of experience coaching. He served 11 years in the Navy.
He is currently Transportation Supervisor at Coatesville VA Medical Center.